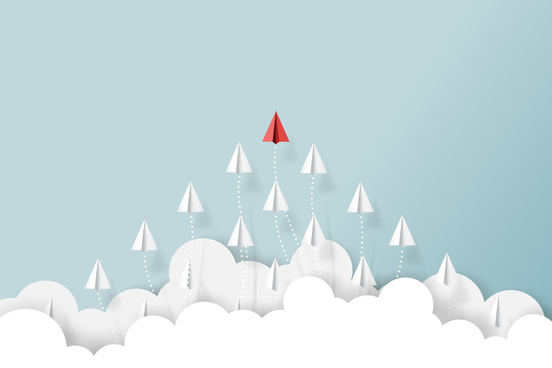 As many people can relate, my days at the start of the COVID-19 pandemic were focused on adapting to unprecedented business disruptions, charting a path forward for employees, and making sure clients would be served well for the foreseeable future.
My first thought was for the safety and well-being of our team. Ahead of formal recommendations from our relevant government authorities, capSpire leadership initiated a pause on travel for all consultants and activated work-from-home protocols and capabilities.
Then my attention turned to ensuring that we could serve our clients at the same level of quality and effectiveness as if we were working physically at their office locations. Detailed planning took place with each client to ensure that the impact of our team working remotely would be minimal for them. On average, we work with more than 60 clients worldwide in any given month, so this was a challenge.
I was communicating constantly with my teams. By lunchtime each day, my phone's battery was nearly depleted and my kids kept telling me that I talk too much.
Fortunately, it wasn't too long before our company adjusted and found our rhythm in the post-COVID workplace.
Along the way, I rediscovered five major leadership lessons imperative to our success. In fact, these lessons apply to any crisis:
1. Lead with the WHY.
Having a clear view on why you do something enables you to eliminate time- and resource-consuming activities that don't offer value. Everyone at capSpire is acutely aware of our "why"—finding a better way for our clients to resolve their biggest business challenges—and it's central to everything we do.
With everybody focussed only on what is most important and striving for the same goals, it enabled us to deliver a seamless transition for clients to a remote working environment. As a result, during Q2 2020, the height of the pandemic, we were able to successfully onboard new clients, initiate new projects, and celebrate significant go-lives.
2. Communicate openly, transparently, and frequently, while relying on data to inform and drive messaging.
Timely, accurate communication is always important, but especially in crises. It helps to alleviate emotional distress associated with the unknown. It lets team members know that you're aware of the impact on them and shows your care for their well-being. And, very importantly, it signifies that you have a deliberate strategy to navigate through difficult times.
The capSpire communication engine has been at full throttle for the last four to five months focussed on:
Outlining our view of the market in terms of risks and opportunities
Sharing our strategy in mitigating risks and leveraging opportunities
Scheduling weekly and monthly sessions to review our performance for every client, on every project
Holding monthly rallies that keep the entire team informed about what we're working toward as an organisation and how successful we've been in delivering our strategy
Hosting weekly lunch-and-learn sessions to share client experiences, increase knowledge and information sharing across the organisation, and help new hires to become embedded more easily
(Yes, we onboarded several new capSpirians during lockdown, who have become fully integrated into the company and with their new teammates.)
This has been instrumental to keeping our team engaged and enabling us to deliver consistent, high-quality solutions for our clients.
3. Stay positive.
In a crisis, it's easy to let fear and negativity consume you. But recognise that every situation creates opportunities that you can leverage. If you keep your head up and view your circumstances with a broader lens, you may even identify ways to improve your business and achieve growth.
For example, Europe recently experienced frequent, prolonged periods of negative power prices. However, this has opened up significant opportunities for certain technologies—such as batteries and pumped storage—to increase demand. Additionally, we expect demand and power prices to remain depressed over these summer months here in Europe, but we still see volatility in European markets. Where volatility exists, there are opportunities to leverage effective forecasting and modelling technologies, plus trading for profit.
At capSpire, this situation has created unprecedented demand across many of our service lines from clients seeking to optimise their technology and enhance their decision-making capabilities to drive more efficiency in their businesses.
4. Be flexible.
Companies—and people—that are open to change and willing to adapt quickly are better positioned to survive a crisis. For many companies during COVID-19, this has meant embracing the dissolution of work-life balance.
Previously, a highly standardised daily routine with clear boundaries between work life and home life was the norm. Hectic travel schedules along with long commutes and working hours were once the primary factors in employees' ability to enjoy a quality home life. But in the last few months, this has all changed. We've now entered a period where there's been a complete blurring of the boundaries between home life and work life.
In many ways, this latest version of normal has been hugely beneficial in strengthening and further personalising our relationships with our employees and clients. Meetings on Zoom or Skype during which kids or pets jump into the action have become almost daily occurrences and provided much-needed levity and humor. It has helped to make our professional relationships more human.
5. Encourage a desirable workplace culture.
Your people—along with their mindset and their strength of connectivity to your company and to each other—are critical in carrying your organization through hard times. Don't underestimate the power of a great culture.
In normal circumstances, one of capSpire's most unique attributes is our culture. Ours is a work-hard environment in which we solve difficult business problems for the world's top companies, but where we also enjoy ourselves. We like to be around each other and we respect our teammates. We want to have fun. We believe in giving everyone a voice and access to career-growing opportunities. We hire the smartest, most talented people and then get out of their way so they can do their jobs most effectively—we are big believers in autonomy, flexibility, and trust. The last thing we want to be is a bureaucracy—we just want to give our people the tools and freedom they need to succeed.
This culture served us well during COVID-19. Our team came together and to boost morale and maintain connections with colleagues by:
Meeting for virtual coffee breaks
Engaging in ongoing fitness and well-being challenges
Throwing virtual "quiz nights" for employees and their families
Additionally, our emphasis on autonomy combined with our client-first mentality resulted in many team members adjusting their work hours to align with clients in different time zones—without ever being asked to do so. These small actions helped to minimize disruptions to our superior client service.
I'm immensely proud of—and inspired by—how my team enabled business as usual to proceed and continued to serve our clients well despite the unusual circumstances of the COVID-19 pandemic.
As business leaders and professionals, let's practice these lessons long after the pandemic subsides. The next time a crisis happens that impacts businesses on a wide scale, the right focus, accurate and transparent communication, positivity, flexibility, and establishment of a good workplace culture will feel like second nature and can reduce the impacts of disruptions.
As Managing Director of capSpire Ltd and capSpire Pty Ltd, Dave Webb is responsible for defining and implementing capSpire's strategy across EMEA and APAC, overseeing day-to-day operations, and building on the firm's successes outside of the Americas. Dave brings 20+ years of experience in delivering enterprise-grade technology solutions and is especially proficient in the global commodity trading, risk management, and financial services technology industries.