capSpire named CIO Review's top Energy Technology Solution Providers list for its expertise in offering technology solutions for commodity focused organizations
FREMONT, CA – December, 01 2014 – CIO Review (www.cioreview.com) has chosen capSpire (www.capspire.com) for its 20 Most Promising Energy Tech Solution Providers. The positioning is based on evaluation of capSpire's success in offering in offering meaningful technology for commodity focused organizations.
The annual list of companies is selected by a panel of experts and members of CIO Review's editorial board to recognize and promote technology entrepreneurship.
"capSpire has been on our radar for some time for stirring a revolution in the Energy Tech space, and we are happy to showcase them this year due to their continuing excellence in delivering top-notch technology-driven solutions," said Harvi Sachar, Publisher and Founder, CIO Review. "capSpire's solutions continued to break new ground within the past year benefiting its customers around the globe, and we're excited to have them featured on our top companies list."
"capSpire is honored to be recognized by CIO Review's panel of experts and thought leaders," said Mike Scharf, Co-founder, capSpire.
Read the full article here: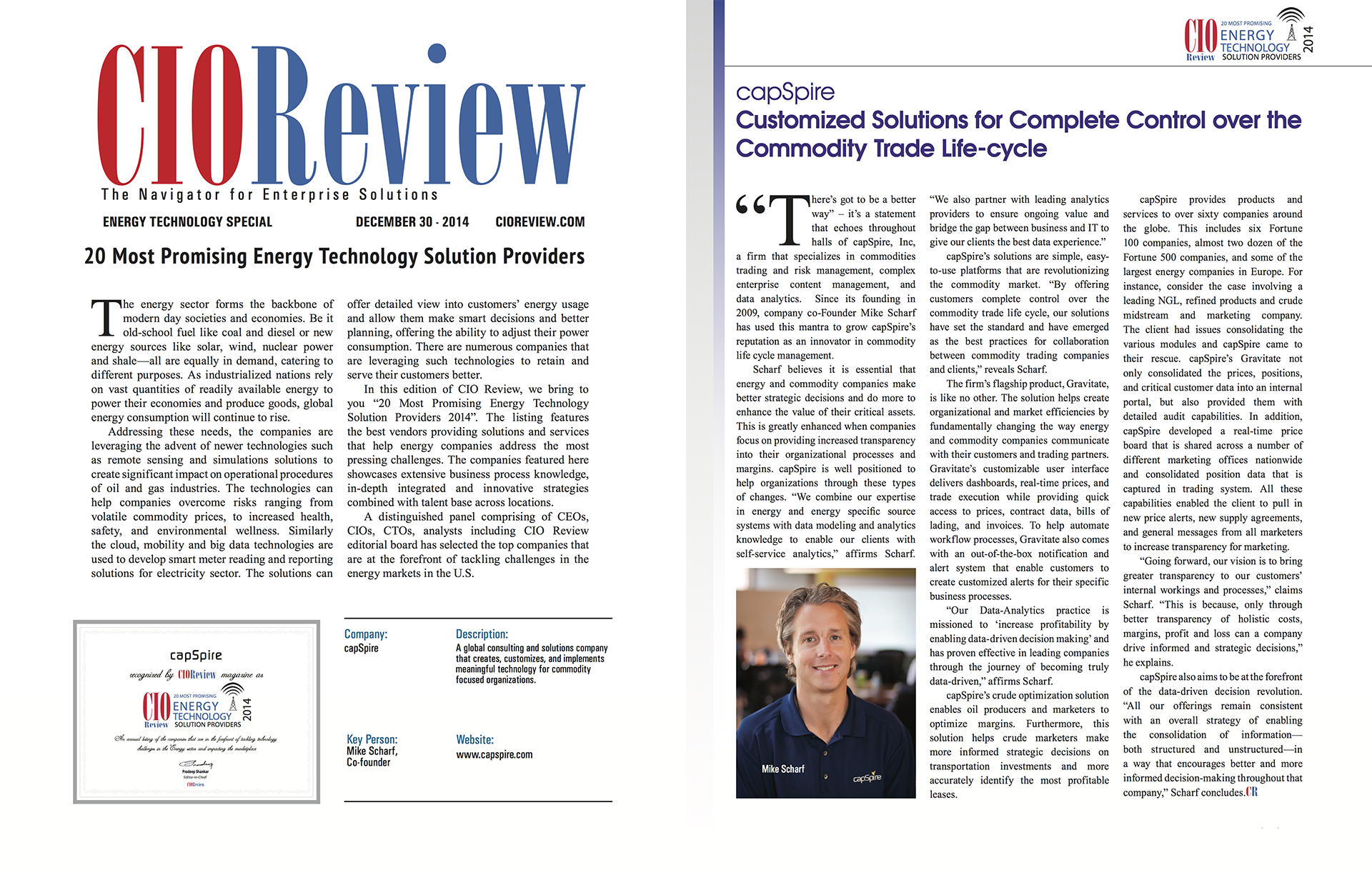 About capSpire
capSpire is an organization that offers technology solutions for commodity focused organizations seen in the energy sector. With expertise in commodities trading, risk management, and complex enterprise content management, capSpire creates valuable business process and technical solutions for Fortune 500 companies.
About CIO Review
CIO Review constantly endeavors to identify "The Best" in a variety of areas important to tech business. Through nominations and consultations with industry leaders, our editors choose the best in different domains. Energy Tech Solution Providers is an annual listing of 20 Most Promising Energy Tech Solution Providers in the U.S.