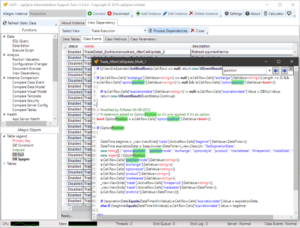 Time spent accomplishing daily tasks in Allegro environments can challenge even the savviest of users.  While CTRM systems have been moving to a more cloud-based solution, making it easier for administrators to distribute Allegro to users, it can also make it more difficult to access the database located in the cloud when troubleshooting issues.  Companies want to minimize the time dedicated to administrative tasks, troubleshooting issues and testing of new extensions.
Developers at capSpire, a global consulting and solutions firm, recognized that a better way was needed to help clients become more efficient managing their Allegro instances.
That's why developers created the capSpire Administration Support Tool – or cAST.  With cAST, clients don't need DBA accounts.  They can have direct database access by using standard Allegro Web Services, thereby also supporting cloud installs.  cAST provides a single executable that is easily deployable, pre-configurable and observes Allegro security, providing clients complete control of what the tool is permitted to access.
"'Why won't a position value or settle?' is an all-too-familiar question among Allegro users that is now answered with our new solution," says Dave Webb, Managing Director at capSpire Ltd.  "cAST reports everything around a position and clearly displays each variable used in Allegro's valuation engine.  It supports this challenge, along with many others, saving users time troubleshooting while increasing control and efficiency across the complete administration of an Allegro environment."
cAST makes back-end data access simpler, provides an instant picture of health with its display, simplifies routine tasks and supports day-to-day functionality.  Here's just a sampling of what cAST can do for you:
Uses standard Allegro Web Services
Data Editor supports Real Time, avoiding cache issues
Allegro version agnostic, tested with 7739.x -> 9901.x
Supports HTTP/HTTPS and compression
Asynchronous operations whenever possible
Requires no non-standard changes to Allegro, nor installation of additional software
Secure, using standard Allegro security mechanisms
Access is controlled by standard Allegro user configuration
Task Manager-type display, providing instant picture of health
Functionality targeted at making back-end data access simpler
Database aware, providing helpers to format specific values
Simplifies routine tasks
Diagnostics of common issues
Supports the day-to-day task of working with Allegro
Exports to Excel / CSV / XML / Insert SQL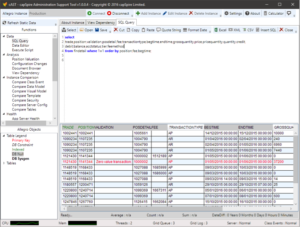 With cAST's streamlined solution, business analysts will have no need to write SQL scripts, developers can have back-end access to the database, and power users are given all the informational background they need – all with one application.
"We're excited about the early feedback from our beta customers who have used the tool," says Robert Parker, Managing Director at capSpire Ltd. "With cAST, business analysts, power users and developers can easily see dependencies, view class event code without Visual Studio, compare instances for differences, including code-level differences, and check user configuration for security gaps.  From a maintaining-an-environment perspective, this is very important and provides companies the confidence they need when managing their system."
Ask us about free beta trials of cAST as capSpire is looking for more companies to partner with us on this offer. cAST is already on site at some selected companies and they have shown enthusiastic support for this beta version of our software.  The initial feedback has been exceedingly positive, so if your company would like to receive a free beta version, contact Dave Webb at 888.532.2815, info@capspire.com or call our international office at +353 1 603 4000. You can also find us in Portugal to kick off the summer in style as capSpire is proud to be an active Gold Sponsor of the Allegro Summit 2016, Entering New Horizons event June 20th-22nd, at Penha Longa Resort in Sintra, Portugal.
About capSpire
capSpire provides the unique combination of industry knowledge and business expertise required to deliver impactful trading and risk management business solutions.Trusted by some of the world's leading companies, capSpire's team of industry experts and CTRM consultants empower our clients with the business strategies and solutions required to effectively streamline business processes and attain maximum value from their supporting IT infrastructure.