It's one of the most common challenges in the oilfield: inefficient transportation of trucks that carry crude oil, sand, and produced water to and from the wellsite. Not only are these transportation costs high, but on average these trucks travel empty 50% of the time. It all adds up to a price that can significantly alter well economics. At capSpire, we think the answer to this recurring problem lies in risk-sharing and dynamic scheduling and dispatching of trucks in the oilfield—what we call Uber for Crude Trucks.
During capSpire's corporate retreat this year, we spent one morning in an innovation lab where we brainstormed problems faced by the energy industry. One of the recurring problems was inefficient transportation. capSpire's solution is to leverage technology to allow risk-sharing and dynamic scheduling and dispatching of trucks in the oilfield, or Uber for Crude Trucks. 
How often are trucks actually used in oilfields?
The purchase of crude oil at the wellhead lease often involves transportation from the oil well "lease" to nearby pipeline injection points "stations." Furthermore, with each barrel of oil produced multiple barrels of salty water are also produced. Depending on the type of well and the basin, this water-to-crude ratio can be as high as 10:1. Often, this water needs to be trucked from the lease to a disposal well or recycling facility. As such, crude transportation and saltwater disposal account for 60% of total operating expenses of a typical Delaware Basin well. The image below shows the breakup of the typical operating costs in the Permian's Delaware Basin.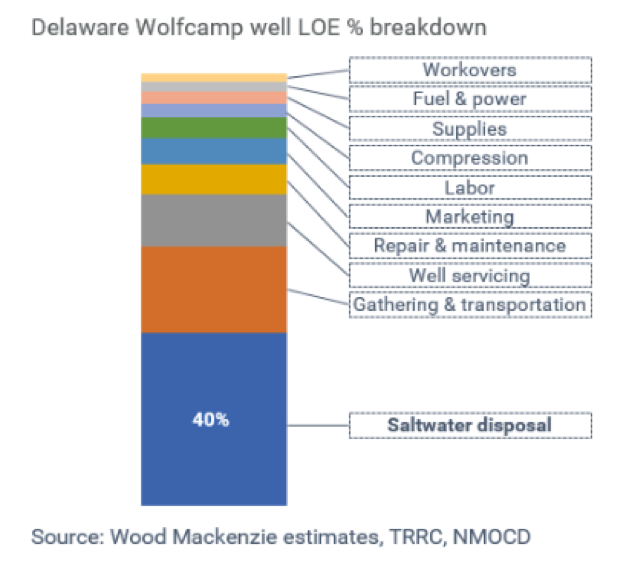 Before any oil is produced, drilling operations that run 24 hours per day, 365 days per year are serviced by an intricate network of trucks. There are currently 442 active rigs in the Permian Basin, which are supplied by trucks carrying diesel, chemicals, drilling fluids, and downhole equipment. In addition to drilling operations, completion crews who fracture the well and lay production tubing are also serviced by trucks. The primary commodities used in well completions are water and sand, which are used in hydraulic fracturing. A typical frac job in the Permian will use at least 18 million pounds of sand, or around 250 truckloads. Around 10 million gallons of water, usually sourced from local ponds, are used per well. On both ends of the supply chain, truck transportation provides a vital service in carrying commodities to and from wellsites. The below image shows the typical CAPEX for an onshore well in the U.S.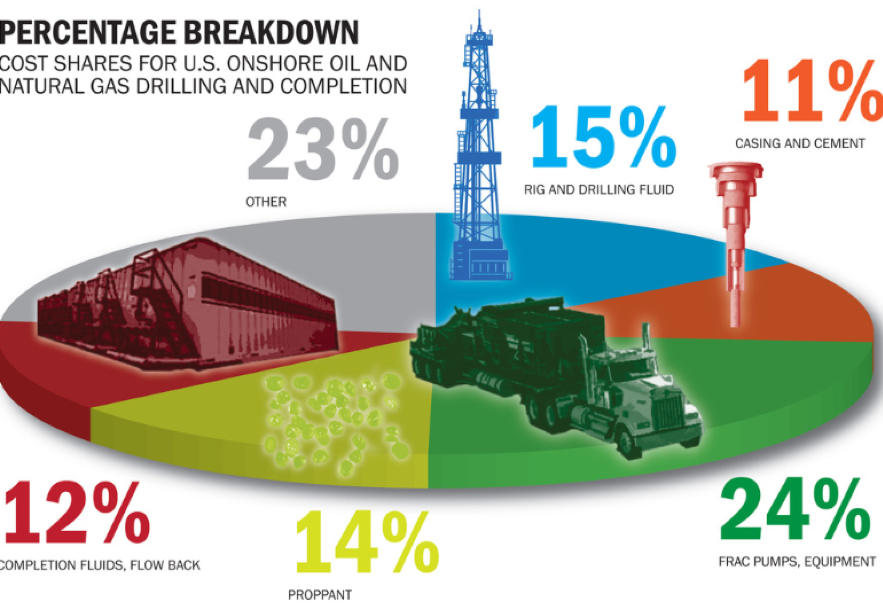 What does this mean for producers and first purchasers?
According to B3 Insight, the cost to transport and dispose of produced water in the Permian can total anywhere from $0.50 to $4/bbl. That's a wide range and can have a significant impact on profitability. Consider this—for each barrel of crude you produce, you might generate a half-dozen barrels of produced water. If you spend $2/bbl to transport and dispose of produced water, that's $12 in costs for every barrel of oil—enough to significantly alter a well's economics. Additionally, hauling 250 loads of sand is not cheap. 
For first purchasers, trucking costs also range between $0.50 to $4/bbl, depending on the distance between the lease and stations. Companies that can keep trucking costs down can offer more aggressive pricing and win more leases. Hence, there is a strong need for risk-sharing and dynamic scheduling and dispatching of trucks. 
How can Uber for Crude Trucks help? 
When transporting sand, crude oil, and water, trucks travel empty 50% of the time. For instance, trucks travel to the sand mine empty, load sand, and then travel back to the wellsite to unload. In the transport industry, this unloaded route is known as a deadhead. Uber for Crude Trucks aims to minimize deadhead miles.
By openly sharing information between all trucking companies, carriers, and shippers within an entire region, trucks can be used for different companies on routes that would have otherwise been deadheaded. As such, trucks become a shared asset to be used by any company that logs into the platform. By increasing the number of potential lease-station pairs, the most efficient transport options can be executed for the expanded network. As illustrated below, the transportation cost per well for a two-well system is $4 per barrel. When a second operator is added, this cost falls to $3 per barrel due to more efficient routing.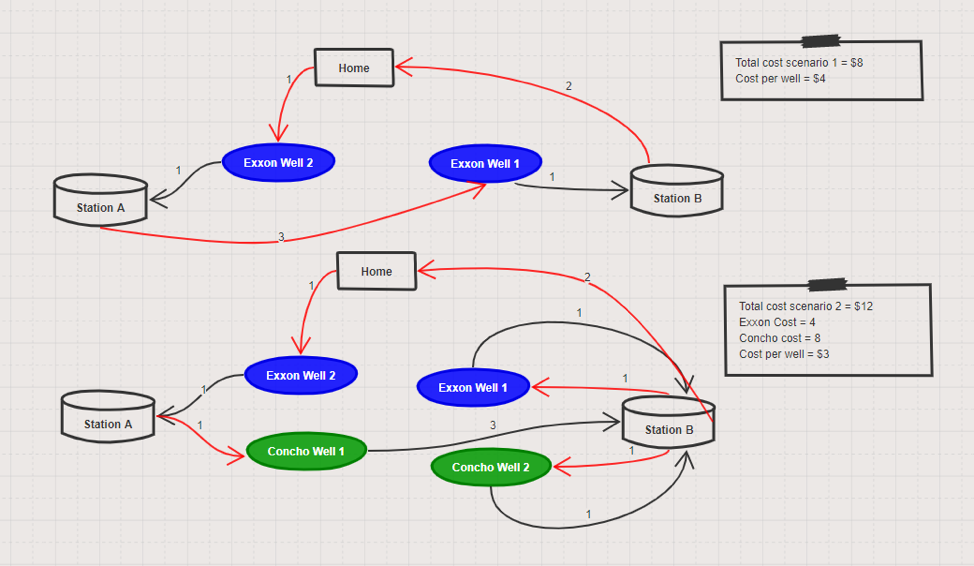 How can capSpire help?
capSpire has extensive business expertise in crude hauling as well as upstream and midstream oil and gas operations. We also have the technology to make Uber for Crude Trucks a reality. 
Gravitate is a web-based portal that enables organizations to communicate with customers and suppliers. It is already being used in the lease crude business by producers, haulers, and first purchasers. The producer portal gives producers instant access and critical insights into leases, orders, and run tickets. Using the innovative lease forecast, producers can identify tank batteries that need to be emptied and quickly enter one or more orders. It also allows producers to easily review and dispute run tickets long before run statements are sent. The third-party hauler portal gives haulers access to orders allocated to them. Performance metrics are displayed, and automated notifications are sent that encourage third-party haulers to provide the run tickets in a timely manner. Gravitate allows capSpire's customers to seamlessly communicate with hundreds of counterparties in the most efficient manner. This communication portal could easily be combined with our dispatch and transport management technology to provide the foundation for the Uber for Crude Trucks application.  
capSpire's Lease Crude Optimization solution is already helping many first purchasers to optimize their crude offload decisions based on changing market conditions, blend models, and gathering and transportation costs. This system leverages linear programming technology to analyze every possible offload location and selects the best option based on a client's entire network. This technology could also be deployed across multiple asset networks to solve the dynamic dispatch problem associated with minimizing deadhead miles. Want your business to benefit from forward-looking solutions such as Uber Crude Trucks? For more information about how capSpire's technology advisory services and software solutions can positively impact your business, please contact info@capspire.com.


About capSpire
capSpire provides the unique combination of industry knowledge and business expertise required to deliver impactful business solutions. Trusted by some of the world's leading companies, capSpire's team of industry experts and senior advisors empowers its clients with the business strategies and solutions required to effectively streamline business processes and attain maximum value from their supporting IT infrastructure. For more information, please visit www.capspire.com.