After the NBA finals, during which the Toronto Raptors won their first-ever championship, NPR released a
podcast
about the impact that data analytics had on the game. The following is capSpire's spin on this topic and its implications for the energy industry.

A New Rule
The three-point shot was introduced to the NBA in 1979 to promote exciting long-range shots and to give shorter players a new weapon to use against taller players, who were dominating the game under the hoop.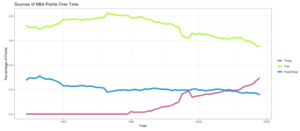 After its introduction, the three-pointer steadily climbed in prevalence (purple line above). This trend has been particularly striking over the last decade, with three-pointers rising from 20% to 25% of total points scored. At the same time, the proportion of points scored from two-pointers fell from 60% to 55%.

So What Happened?
Given a new set of incentives, NBA teams learned to take advantage of the new point-scoring mechanism. They hired smart guys such as Kirk Goldsberry, who used spatial data analytics techniques to understand where players were making and taking the most shots, and how to position players to maximize the chances of scoring.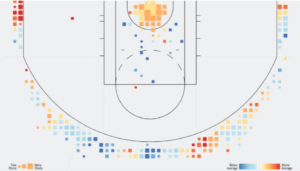 These analysts discovered that there is a statistical incentive to take more three-point shots unless there is a high chance of scoring two points. This is because three points is a lot more than two points—50% more to be exact. (The opportunity to score 50% more points outweighs the risk of a lower success rate on three-pointers.) This analysis has led to the development of formulas for maximizing shot efficiency, which has resulted in the shot frequency illustrated above by the Houston Rockets in the 2018–2019 season.
What Is The Predicted Impact on the NBA?
Incentives drive behavior. Assuming that all NBA teams want to win, there will be two major impacts:
The prevalence and remuneration of the long-range shooter (such as Stephen Curry and James Harden) will increase as the relative importance of the three-point shot increases.
The game will be dominated by shots from under the basket and three-pointers.
What Does This Have to Do with the Energy Industry?
As NBA teams have harnessed data analytics to boost scoring and improve their chances of winning games, the energy industry can leverage data analytics to maintain a competitive advantage and maximize profitability in a volatile market.
Whereas the NBA had one rule change in the last 40 years, disruption is a daily occurrence in the energy industry. In fact, the only constant in the energy industry is change itself. For example, new pipelines come online, production rises and falls, and demand centers shift (ex., Cushing to Gulf Coast). As the rules of the game change, the most efficient set of actions also change. Executing a static strategy in a dynamic environment is not a winning plan.
The visual below illustrates how the profit margins of a group of sample leases in the Permian Basin changed over a six-month period. In this image, the blue leases represent a positive margin and the orange leases represent a negative margin. Between January 2018 (left) and June 2018 (right), the number of profitable leases decreased. This is because the company was unable to adapt quickly enough to market volatility, which resulted in more of its non-core leases becoming unprofitable.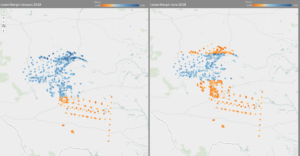 What Should Energy Companies Do?
Energy companies need to have the right systems and processes to help them better manage risk, overcome uncertainty, and identify business opportunities despite market disruptions.
Today, most energy companies have core enterprise resource planning (ERP) and commodity trading and risk management (CTRM) systems. These systems are great at capturing information, but many companies struggle to transform this data into valuable insights that can guide business decisions. This is where capSpire's data analytics practice can help energy companies.   
At capSpire, we have decades of experience in the energy industry. Our data analytics and digital consultants have partnered with more than 100 energy and commodity companies in natural gas, power, crude, refined products, natural gas liquids (NGLs), and coal. We leverage our extensive knowledge of the energy industry, the commodity transaction lifecycle, and your specific type of business to transform numbers into meaningful, actionable intelligence. We provide our energy clients with full-service data analytics and digital consulting services, from establishing an overarching data analytics strategy to data modeling, data visualization, data engineering, and analytics support.
In our upcoming blog series about data analytics for the energy industry, we will explore the many challenges in becoming a more data-driven organization along with effective solutions:
Integrating data analytics systems into business processes to ensure users can efficiently complete tasks
Leveraging scalable data storage solutions, such as Google Cloud, to ensure that business insights are not limited by infrastructure
Surfacing data through the latest visualization technology, such as Tableau, and drawing valuable insights using data analytics
Deploying predictive analytics and optimization technology to increase profit margins and ensure that decisions are made for the greatest benefit of the organization
Reinventing the way organizations communicate with their customers and suppliers by using web-platforms to transact business and blockchain to settle transactions
For more information, please contact us at info@capspire.com.
About capSpire
capSpire provides the unique combination of industry knowledge and business expertise required to deliver impactful business solutions. Trusted by some of the world's leading companies, capSpire's team of industry experts and senior advisors empowers its clients with the business strategies and solutions required to effectively streamline business processes and attain maximum value from their supporting IT infrastructure. For more information, please visit www.capspire.com.