Last month, I took part in the first-ever Women in Tech Caribbean Conference. This virtual event was packed with a keynote address, a panel discussion, lightning talks and multiple sessions covering various relevant tech topics. Several women in tech of all ages attended virtually from over the world, most of whom had ties to the Caribbean. I was elated to be a first-time conference speaker, as I led a session called "What to do with a World of Data." In my educational session, I discussed a series of use-cases and practical applications for data science, engineering and analytics in today's world. The use-cases were all team-based projects that I had worked on professionally – at capSpire and in my spare time – focusing on the elements of the projects that I specifically built. It was a wonderful opportunity for me to showcase the possibilities that can become a reality when we have data and use it appropriately. I was grateful for the opportunity to share resources and educate others on the power of data, and I was even more grateful for capSpire's sponsorship to make this happen.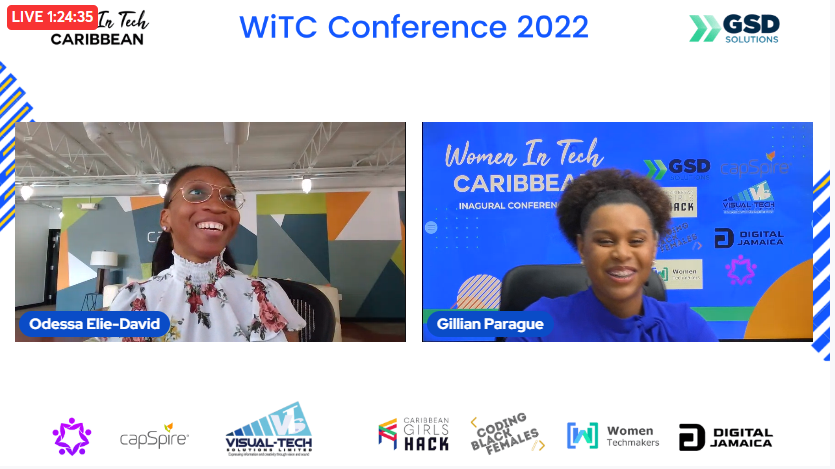 Not only did I get an opportunity to speak about data, but I also had the chance to network with other women in tech who share my cultural heritage, and share advice as data science is still a budding industry in the Caribbean. As one could imagine, the encounters were fulfilling and inspiring‌. Here are some key takeaways as an attendee and speaker at this conference:
First, the vast nature of topics reinforced the idea that tech is expansive. There is more than one path to finding your way as a tech professional, and there are many problems that can be solved by using technology. As some of our speakers shared, "You don't have to start in tech to be in tech," and this reminds me that despite having a non-technical teaching background and only working in tech for just over one year, there is still space for me to grow as a young professional, especially with the support of my colleagues, and there is still a chance for me to teach others as I learn.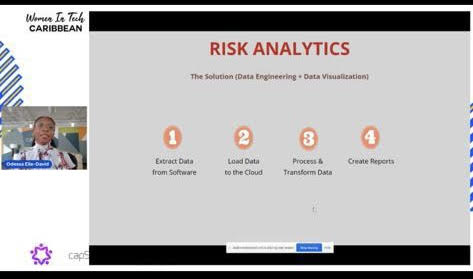 Secondly, one of my favorite sessions for the day was that of Arielle Khan who spoke about how skills learned from beauty pageants are transferable to ICT careers. This resonated with me, as I am a retired pageant girl who always had an interest in tech. I recognize that my pageant experiences have contributed to my strong work ethic, communication skills, and representation of myself as a professional – all valuable skills that Arielle discussed in her session.
The third takeaway was from a session by Dana Hayes-Burke where she encouraged business owners to brand themselves in a way that clients would automatically think of them when they hear specific words. Although I'm not a business owner, I think my branding word is "data". As a part of capSpire's digital projects/analytics team, I work with data every day, and as a blogger in my spare time, I work on data projects to share with others. Essentially, when others think of the word "data," I hope that they'll think of me, and capSpire, when they have data needs.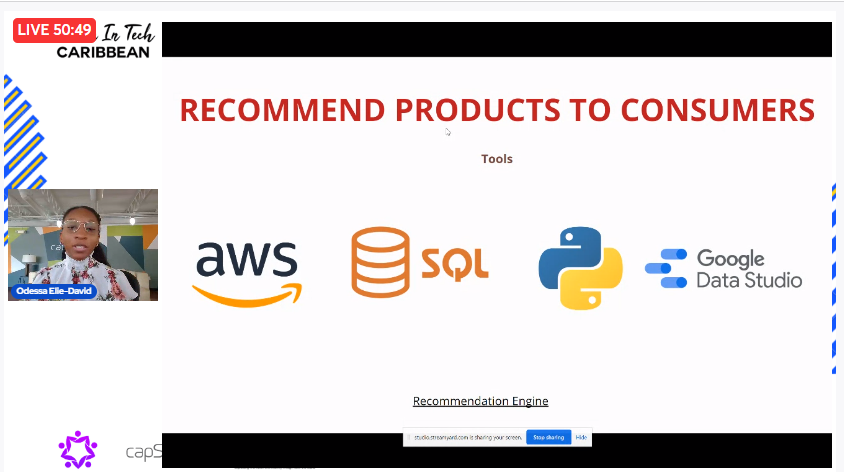 Ultimately, I was proud to see such a showcase and community of women like me who are doing such great work in the tech industry. By the end of the conference, I was so energized that I worked on two specific career goals in the coming months. I'm hoping to work on more individual data projects to strengthen my skills as a consultant and build my expertise in different tools that clients might need. Sharing knowledge is important to me, and I think I would like to present more frequently so I can reach wider audiences, especially other women in tech or people in the commodities industry who may not know about how they can use data to solve business problems.