Tulsa, OK – This month, capSpire celebrates its seventh anniversary – and seventh consecutive year of record growth – by acknowledging the tireless work ethic of its dedicated employees, the hallmark of its success.

Seven years ago, capSpire hit the ground running, making immediate and significant strides consulting for companies in the commodity-trade and risk-management sector. With a robust resume of flourishing clients, capSpire knows first hand the value of hard work.
What started in February 2009 as a hungry, energetic startup with a niche for creating innovations to streamline commodity-management functions has now grown into a global, strategically positioned solutions company that served 56 clients across seven countries in 2015 alone.
"capSpire's stellar 60-percent revenue growth in 2015 would not be possible without our wonderfully talented and dedicated team," said capSpire co-founder Jeff Hardcastle. "The desire to find a better way, to solve problems, that's what motivates our employees and that's what sets them apart.
"Oftentimes, this requires very long and irregular hours, and for this I'm truly grateful to our employees. I can't thank our team of talented and committed employees enough for the sacrifices they've made. All of our success these past seven years doesn't happen without their hard work."
For three years running, capSpire has been ranked on Inc. Magazine's 5000 list of fastest growing private companies. Moreover, though capSpire has experienced significant, strategic growth, the firm has been able to maintain a corporate culture that has earned it the Alfred P. Sloan Award for Excellence in Workplace Effectiveness and Flexibility for the third year in a row. But capSpire didn't earn those awards by resting on its laurels. 2015 saw the creation of an analytics practice, as well as the release of the company's first optimization solution.
"It's amazing to think back on all that we've achieved in these seven years," said capSpire co-founder Mike Scharf. "As rewarding as it is to reflect on all that we've accomplished together as a team, I'm also excited for what the future holds.
"Since day one, capSpire has stayed true to our core promise to build long-term, mutually beneficial relationships with clients that share passion for problem solving and innovation. I believe this focus continues to drive our growth and fuel our dedication to provide our clients with great service and products. We want to thank our customers for partnering with us to make their critical projects a success."
A global consulting company troubleshooting with surgical precision, capSpire serves the commodity-trade and risk-management sector of the energy industry. The firm currently has growing office locations in Fayetteville, Arkansas; Tulsa, Oklahoma; Dallas, Texas; and Cork, Ireland.
The capSpire leadership team looks forward to the next seven years of strategic growth, fueled by hard work and a desire to make client projects successful while partnering with additional companies that value innovative solutions.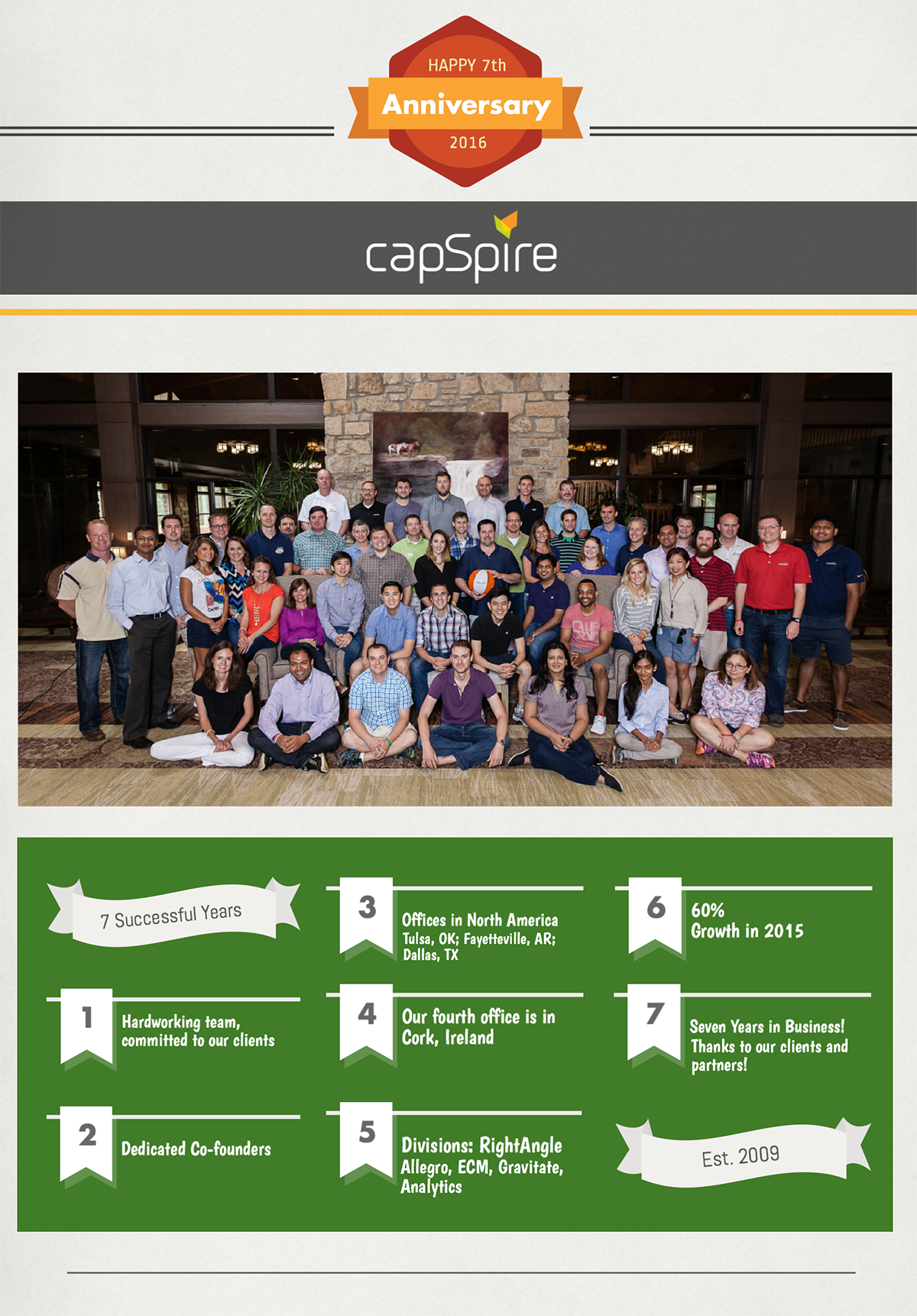 About capSpire
capSpire is a strategic advisory, system integration, and technology solutions firm with offices in the United States and Europe. Leveraging centuries of collective experience and a drive to find a better way, capSpire has shifted the paradigm on how innovative solutions create value for its clients across commodity trading, transportation, diversified energy and consumer packaged goods.
For more information, please visit www.capspire.com.