The uncertainty of knowing how an Allegro code upgrade will impact existing customizations and functionality has many companies grappling with how to properly plan, test and execute an upgrade project without engaging in substantial testing efforts.  Being able to proactively identify and catalogue all the changes between code versions and how those changes impact the existing environment can save hundreds of hours of trial-and-error investigations.  Additionally, knowing the changes and their impact in advance allows for proper planning and adjustment of existing extensions to significantly streamline the upgrade effort.  With so much riding on a seamless transition, the stakes of a successful upgrade have never been higher.
That's why capSpire, a global consulting and solutions firm, is pleased to announce the launch of Dependency Analyzer. This latest addition to capSpire's Product Suite serves as a powerful comparison tool to get detailed information about relationships between Dependencies and how those relationships affect underlying source code. By employing Dependency Analyzer, companies can obtain details such as Class Name, Database Table Name, View Name, View Pane Name, Allegro Assembly Name, and more.  Users can dynamically click into the Relationship Grid to view the entire source file with the target source code line highlighted, allowing you to quickly understand the context of each individual relationship.
"We saw our customers were struggling with understanding dependencies when evaluating Allegro system upgrades, and we're excited that we can provide a solution to make it more efficient for them to execute upgrade assessments," said capSpire Chief Executive Officer, Lance Laubach.

"This is a game changer.  Dependency Analyzer's powerful comparison tools allow you to compare relationships, making an Allegro upgrade assessment more seamless and more efficient – with potentially thousands of hours saved by getting critical information well in advance of an upgrade."
It's critical to be armed with accurate information before attempting an Allegro upgrade since knowing how functions interconnect can save a company hundreds of hours by not having to reverse engineer a solution.  Having the necessary information up front is vital for a company so it knows specifically what needs to be modified to keep things working.  capSpire's Dependency Analyzer delivers the following features:
Explore Allegro Dependencies
Visualize relationships between the different layers
Quickly view, sort, and group details in an easy-to-read relationship grid
Get quick answers to questions like:

What database tables does a specific table have a dependency on?
What database tables does my class event depend on?
Which view panes have a dependency on a specific class?
What are my custom database tables and what system tables do they have a dependency on?
What custom class and Allegro assemblies does my class event depend on?
Come see us in Portugal to kick off the summer in style as capSpire is proud to be an active Gold Sponsor of the Allegro Summit 2016, Entering New Horizons event June 20th-22nd, at Penha Longa Resort in Sintra, Portugal. capSpire is looking for customers to parent with us on this free offer. For more information, please call capSpire CEO, Lance Laubach at 888.532.2815.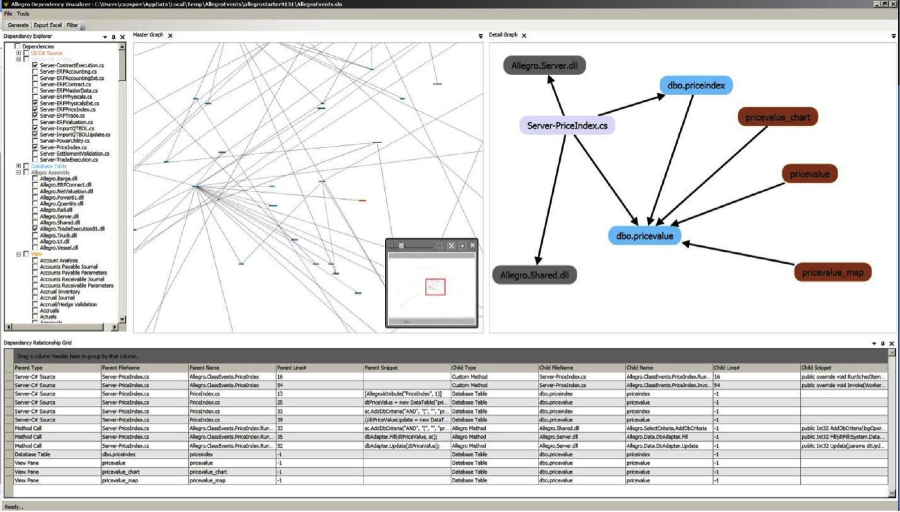 About capSpire
capSpire is a global consulting and solutions company serving the Commodity Trade and Risk Management sector of the energy industry. Headquartered in the growing technology hub of Fayetteville, Arkansas, with an office in Tulsa, Oklahoma, capSpire has served over two dozen clients across North America and Europe. capSpire provides its clients with deep business and system expertise to simplify and streamline its commodity management functions for crude, natural gas, refined products, NGLs, coal, iron ore, agriculture and freight. Chief among its service offerings are IT strategy and planning, system selection, bespoke software development, implementation services, systems integration, complex enterprise content management and ongoing support.