This month, the EMEA and APAC teams at capSpire gathered together to take part in our annual regional retreat in Marbella, Spain. 2019 marks our largest regional retreat yet with the capSpire international team growing by over 50% and consultants travelling from numerous locations, including our recently established Australian practice.
The retreat is an opportunity to
regroup, focus on our mission and values
, and to get to know our newest additions to the capSpire team. This year we took time to reflect on the key aspects that make us a unique company that provides such great value to our partners and customers along with the core values which remain since the company was founded in 2009. The capSpire leadership team gathered the group to focus on
Innovation
,
Collaboration
,
and
Exceeding Expectations.
By dedicating time to foster growth in these three areas we can continue to achieve the capSpire mission of finding better ways.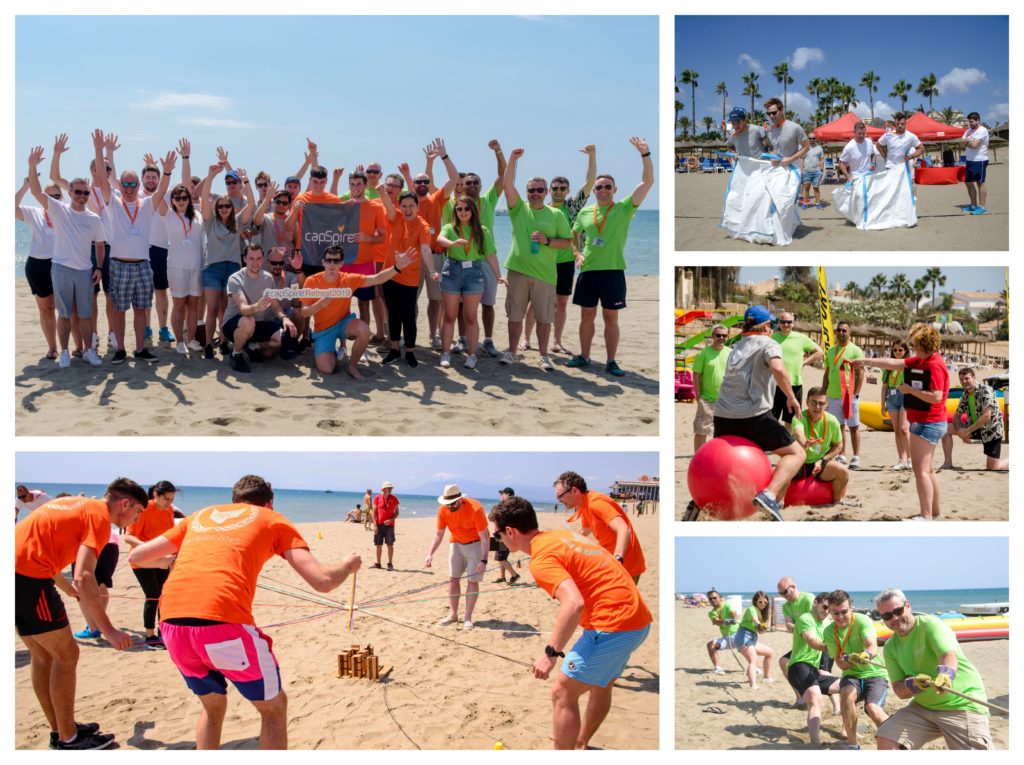 Innovation 
We see every day and every encounter as a fresh opportunity to learn, discover and improve. True sustainable success is best achieved by continuously improving the quality and value of the services and products we bring to market. capSpire's distinct attitude is one that transcends all of our service offerings and is what some refer to and the 'Innovator's Mindset'. Innovators want (or perhaps even need) to grow, they provide value by creating solutions to meet consumer needs as well as creating new value by providing things consumers didn't even know they wanted.
Collaboration
We are a global company with offices throughout North America, EMEA and APAC so we offer the advantages of a diverse, multinational company but we are fueled by our core values of hiring smart talented individuals who collectively who have deep industry expertise and enjoy working with others to share this knowledge.  
Exceeding Expectations
We go above and beyond for our clients to ensure that our solutions meet and exceed requirements and expectations. Our objective is to build long term, mutually beneficial relationships with clients that share our passion for innovation. Profits should be a natural byproduct of a job well done, so we go 'all in' on every opportunity. The only metric we use to determine our success is client satisfaction.
Following lunch overlooking the Mediterranean Sea, we spent the afternoon on the beach competing in a number of team-based activities including space hopper tag, tug of war, sack racing and the string box game. The games generated a lot of laughter, and presented a great opportunity for everyone to get to know each other and connect, often literally!

"Whilst we wanted to share an insight into the capSpire heritage and vision, it was also equally important that we gave the team an opportunity to connect in an informal way, to decompress after a hugely successful year, and to relax.  It was great to see everybody really 'throw' themselves into the activities and get involved," said Dave Webb, Managing Director of capSpire Ltd.
To learn more about our offerings/services please visit capspire.com. If you are interested in learning more about opportunities at capSpire, click here to visit our careers page.


About capSpire
capSpire provides the unique combination of industry knowledge and business expertise required to deliver impactful business solutions. Trusted by some of the world's leading companies, capSpire's team of industry experts and senior advisors empowers its clients with the business strategies and solutions required to effectively streamline business processes and attain maximum value from their supporting IT infrastructure. For more information, please visit www.capspire.com.