capSpire, a strategic advisory, system integration, and technology solutions firm, has been awarded the prestigious 2014 When Work Works Award for its use of effective workplace strategies to increase business and employee success. This is the third consecutive year the firm won the national recognition, formally called the Alfred P. Sloan Award.
The When Work Works Award is part of the national When Work Works project administered by the Families and Work Institute (FWI) and the Society for Human Resource Management (SHRM).
The organizations survey the employees of all sizes and types of businesses across the nation before choosing an exclusive group of employers as award recipients.
capSpire is the only company in Oklahoma and one of two companies in Arkansas recognized with the When Work Works Award. Since its inception in 2009, capSpire has focused on creating and nurturing a company culture with the ultimate goal of creating a positive work environment. All employees are encouraged to grow their skills, acquire new knowledge, and make day-to-day decisions that are in the best interest of both the employee and the company.
"We are honored to once again receive national recognition for our efforts to create a company culture that supports and encourages work-life balance. At capSpire, we value working hard, but we also encourage our employees to work smart. Employees who achieve a healthy work-life balance are often less stressed, more productive, and increasingly loyal. Happy, motivated employees put our company in the best possible position to provide solid results for our clients, " says capSpire co-founder Jeff Hardcastle.
The When Work Works Award recognizes only three hundred premier employers on a national level for policies, programs, and culture that create a flexible work environment. Applicants are rigorously evaluated on six research-based ingredients of an effective workplace: opportunities for learning; a culture of trust; work-life fit; supervisor support for work success; autonomy; and satisfaction with earnings, benefits and opportunities for advancement. These are all factors associated with employee health, well-being, and engagement.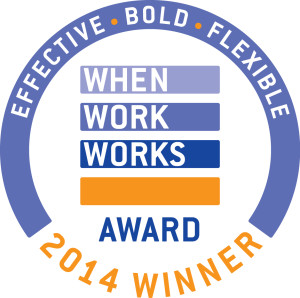 "The When Work Works Award recognizes organizations that foster a culture of workplace flexibility and effectiveness, which gives them a competitive advantage. Their practices set them apart from other organizations," said Lisa Horn, Director of SHRM's Workplace Flexibility Initiative.
"capSpire works to attract and hire the top talent in the US and overseas, and our company culture is an essential tool in that process. Work-life balance isn't just an employee benefit, it's engrained in who we are as a company," says capSpire recruiter Megan Coger.
For more information about the When Work Works initiative and the When Work Works Award (formerly known as the Alfred P. Sloan Awards for Excellence in Workplace Effectiveness and Flexibility) visit http://www.whenworkworks.org
About capSpire
capSpire is a global consulting and solutions company serving the Commodity Trade and Risk Management sector of the energy industry. Headquartered in the growing technology hub of Fayetteville, Arkansas, with an office in Tulsa, Oklahoma, capSpire has served over two dozen clients across North America and Europe. capSpire provides its clients with deep business and system expertise to simplify and streamline its commodity management functions for crude, natural gas, refined products, NGLs, coal, iron ore, agriculture and freight. Chief among its service offerings are IT strategy and planning, system selection, bespoke software development, implementation services, systems integration, complex enterprise content management and ongoing support.