It's no small task to connect our team in one central location. But ingrained in the capSpire culture is the belief that quality time face-to-face is worth the added effort. 
The capSpire Retreat serves a dual purpose, casually balancing strategy and collaboration sessions with team-building activities. It's a great way to re-energize, encourage cross-departmental collaboration, and realign our vision for the future. **And yes, even our tech-savvy colleagues enjoy a few days to disconnect and chat offline!

The retreat kicked off on Thursday with a look back at the history of capSpire, the people and clients that have contributed to our success, and celebration of capSpire's tenth anniversary.  The company's senior leadership discussed strategy for future growth, all guided by the key ideas that have been the bedrock of the company's culture for a decade.
"If there's one thing that has stood the test of time for the last ten years, it's our unwavering commitment to our ideas about who we are. Our culture has always been focused on how we treat each other, empowering smart people with the autonomy to do great things in an environment of trust, and the assumption of best intentions," says capSpire co-founder Jeff Hardcastle.
Our team also learned that capSpire was named one of Inc. Magazine's Best Workplaces List for 2019 a tribute to the focus our leadership puts into maintaining a unique company culture and inclusive collaborative environment in each of our locations worldwide. 
Friday focused on internal meetings, providing members from each of our Centers of
Excellence a space to brainstorm ideas on how to grow capSpire's internal practices in the coming years. Additionally, we organized a market expo to share best-in-class practices that we've learned and executed within each of our focus markets. The retreat also combined knowledge from external speakers with internal presentations and brown-bag style discussion. It's a valuable time to generate new ideas and learn from each other.
"Our Annual Retreat allows the entire team to hear multiple perspectives and ideas in one location," capSpire Chief of Staff Victoria Scott of our company retreats. "Taking the time to casually meet face-to-face allows us all to think a bit differently about how we collaborate, communicate, and depend on each other."
Through the years, the retreat traditionally culminated with an activity and social event planned by the new employees hired within the past year.

It's a tradition that has followed capSpire through its ten years of existence and is a part of our retreat. The retreats have also featured plenty of downtime with activities, food, music, and a few unexpected surprises. Click here to read about the lighter side of our capSpire Retreat in part 2 of our series where we highlight how capSpire's annual retreat balances work and play, a deliberate part of capSpire tradition.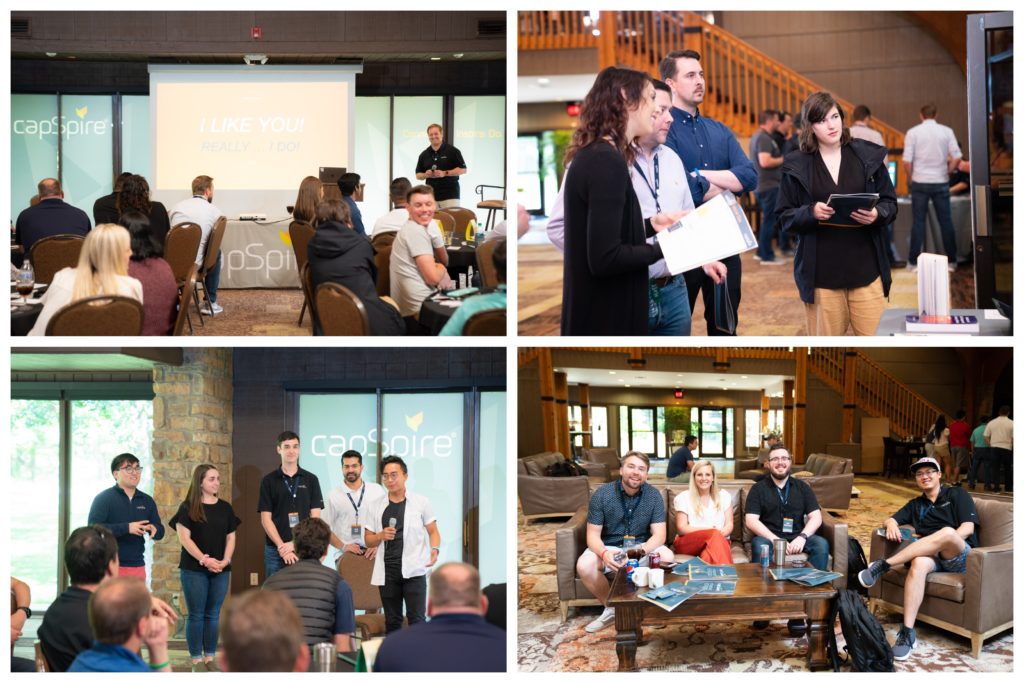 About capSpire
capSpire provides the unique combination of industry knowledge and business expertise required to deliver impactful business solutions. Trusted by some of the world's leading companies, capSpire's team of industry experts and senior advisors empowers its clients with the business strategies and solutions required to effectively streamline business processes and attain maximum value from their supporting IT infrastructure. For more information, please visit www.capspire.com.